The health of the vehicle is one of our most preferred things to us. Suppose you are driving your car, and suddenly, you can hear some clicking noise inside the cabin. Can't it make you tense? Well, your car can make a clicking noise because of many issues. The main culprit behind the clicking noise when driving can be engine oil, defective battery, or brake pads.
In this blog, we are going to discuss what are the main reasons behind the clicking noise and how you can diagnose them with less effort.
Reasons Behind the Clicking Noise When Driving
Low Or Contaminated Engine Oil
Low or soiled engine oil is probably the cause of any clicking noise when driving. All of the parts are lubricated by the motor oil and allow you effortless driving. Over time, the metal components may begin to get in a hustle if your engine's oil is low. Make sure to get an oil change if you notice burning oil or if your car's performance is decreasing (every 3,000 miles if you are using regular oil and every 7,500 miles if you are using synthetic oil).
A Bad Alternator or Battery
If you hear a clicking noise, there can be a problem with the ignition mechanism. With assistance from a friend or neighbor, jump-start the battery since the alternator or battery may be defective. Your alternator may malfunction if your battery dies soon after.
Brake Pads That Are Loose or Worn
You may have a loose brake pad if the clicking occurs when you are braking. The noise of a worn brake pad is screeching or grinding. You should locate the wheel that the clicking noise is coming from, lift the car at least 6″ off the ground, remove the wheels by unscrewing the holding nuts, and check the brake pads.
CV axles allow the transmission to give power to the wheels and provide bearing flexibility. A faulty CV joint can be a reason if your car is making a loud clicking noise when driving straight. Ball joints are located inside a lubricated boot just to give enough flexibility to the bearing. This can also cause an issue of clicking noises while driving.
If your wheel nuts are loose, the brake pads will get more than enough space to move freely. This thing can create a clicking noise.
The struts in the rear suspension are there to decrease the force that the road transmits to the car's interior. Other helpful equipment for this purpose include cylinders filled with transmission fluid or gear oil. They offer the pistons a firm resistance while absorbing most of the impact from the road next to the spring coil.
Therefore, strut damage causes the suspension to become incapable of absorbing road shock. Sadly, this also makes a loud clicking sound while driving.
Apart from these, a loose seat belt holder can also create clicking noise. And also punctured tires can also make a clicking noise.
Apart from these, there are some scenarios that can describe some of the situations better.
If Your Car Makes a Clicking Noise While Turning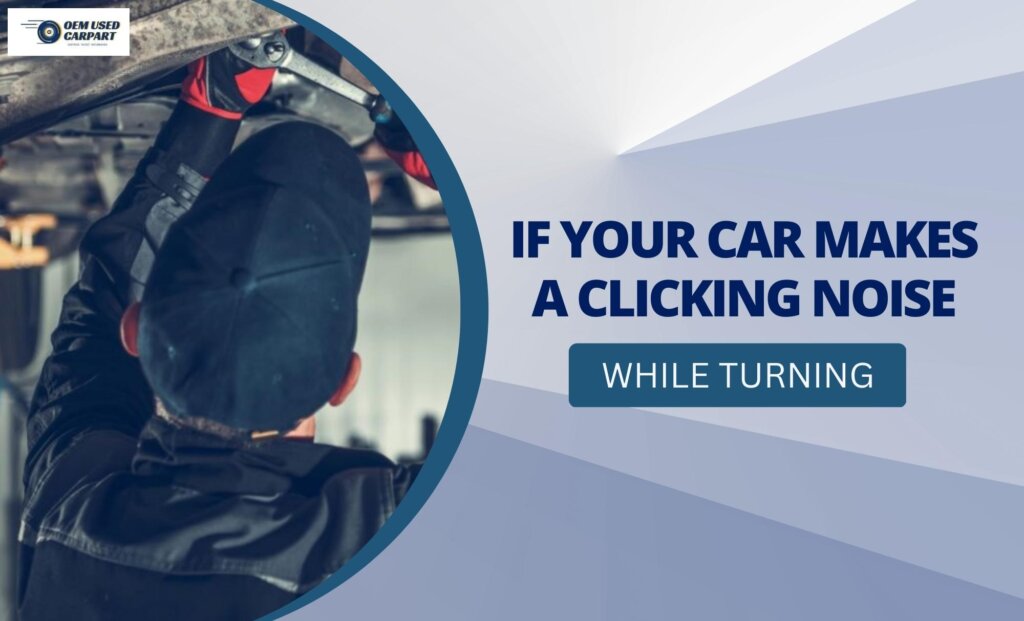 Then maybe there is some fault with the CV axle of the car. A CV axle allows the car's transmission to rotate the wheel and take a perfect turn with the bearings. When the CV axle gets into a fault, it can create a clicking noise.
If Your Car Makes a Clicking Noise While Driving Slowly
Then loose brake pads or brake line can cause this. This can happen when you are driving your vehicle slowly, especially when you are trying to press the brake pedal slowly. If the pads are not properly tight, then they get more space to move around. And that is how they make a clicking noise.
If Your Car Is Making a Rapid Clicking Noise
Then it can be because of a faulty alternator or battery. These are the two most vital parts of such a case. If you do have a faulty alternator, then it cannot charge the battery anymore, this can also make a rapid clicking noise that you can hear from inside the car's cabin.
Frequently Asked Questions
Why is my front end clicking?
Front-end clicking noises can have various reasons, but the most common one is the Constant velocity joint. If the joint creates an issue, you can hear a clicking noise from the front end of your car.
Can I drive my car if it's making a clicking noise?
Yes, you can surely drive your car with a clicking noise. But this kind of noise indicates that there is some issue with any certain part of your car. So, you should give it a look right away.
What causes clicking noise when accelerating?
While accelerating the engine, if it makes a clicking noise, that probably could mean that there is not enough engine oil on the top of the motor. If it is coming from the axle area, then the culprit can be the CV joint.
How do you fix a clicking bearing?
Whenever you want to move your car, if your bearing is creating a clicking sound, you can use some lithium grease to fix it.