As we all know, transmission can be evil if it goes wrong. The most needed power gets supplied to the car engine by this transmission only. Well, to do non-stop work and to make every ride smoother and more adventurous, transmission needs to be healthy. If anyone drives a Honda Civic, then they may know the importance of Transmission fluid. It is the lubricant behind the smooth but heavy task of transmission. Honda Civic transmission fluid lubricates parts and other bearings inside of a gearbox. But, after using it continuously for a certain period of time, this fluid needs to be changed. But now the question is how often you should change it and how much it costs.
Detailed Definition of Honda Civic Transmission Fluid
Transmission fluid is not the only fluid in the car. There are many other fluids in the car that help to perform the car to its max potential. But, among all of them, you can consider the transmission fluid as one of the most important fluids.
Honda Civic transmission fluid works as a lubricant for many bearings and parts in the gearbox. But there are basically two types of transmission fluid automatic and manual. So, before going to any particular one, first, you will have to understand the requirements of your car.
Automatic transmission fluid does not only lubricate the bearings and parts, but it also can help in valve body operation, torque converter operation, clutch friction operation, and transmission cooling.
It can come in some eye-catching colors like red, blue, purple, green, amber, etc. A proper honda civic CVT transmission fluid change interval can help you keep the gearbox cool and make your car life longer. This fluid breaks down more slowly and does not oxidize with thin air and fuel.
How Often Should You Change the Transmission Fluid?
Changing the Honda Civic CVT transmission fluid within a proper interval increases the health condition of your transmission and also the car. Experts suggest that a user should change this fluid within every 30000-60000 miles. But it is advised for suitable driving conditions.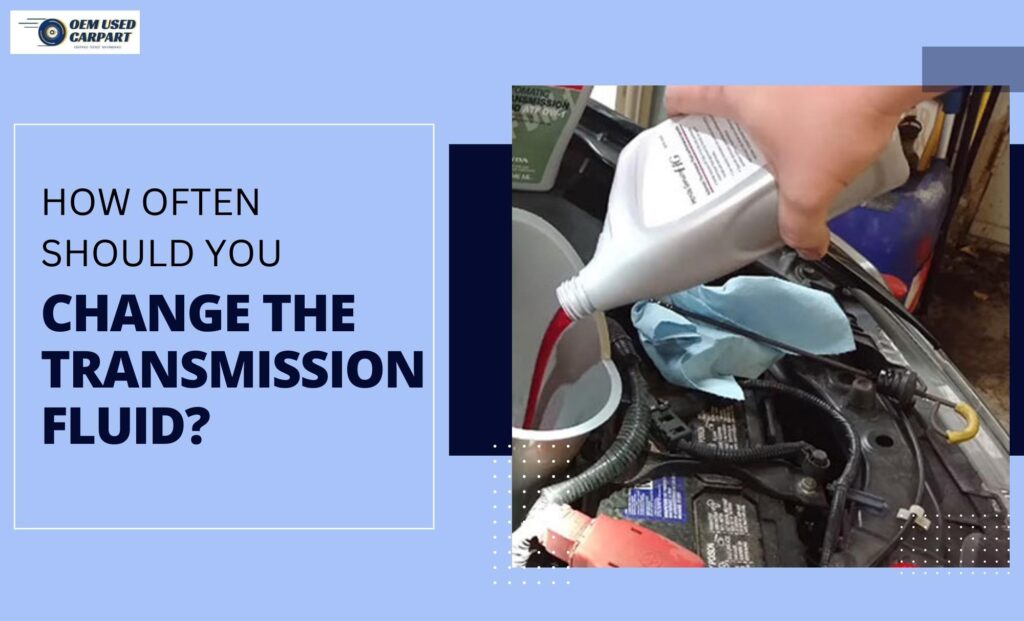 But, if you drive your vehicle in extreme weather conditions, tow heavy vehicles by your car, or experience city traffic, then you might need to change within a shorter period. Manual transmission fluid should be replaced every 30000 miles.
You should always add transmission fluid when it's low. But now the question is how can you get to know that your transmission fluid is low? You can surely check many of the indications to know the level.
Like if your gears are slipping while changing, or if your engine resists higher than normal then it might be possible that you are having a shortage of transmission fluid. But there are some more prominent signs. that indicate a lack of transmission fluid.
If your red transmission fluid changes its color from rich red to muddy red, then you are probably running out of transmission fluid.
Your vehicle moving inappropriately.
You can smell a slight burning smell in the driver's cabin.
Gears slip while changing, and the engine starts resisting.
Roaring sound from the engine while accelerating or cornering.
CVT Transmission fluid change frequency depends on other factors also, like when it's high time form for changing the transmission fluid, your car will engine will start chattering.
If you are looking for used transmission parts suppliers there are many genuine online platforms, you can rely on. Visit OEM to get the best parts with a full 1-year warranty.
Desired Purposes of Honda Civic Transmission Fluid
Transmission fluid is supposed to lubricate the parts of your transmission. That helps you to improve the health of your transmission and the car also. But there are some other purposes also that the transmission fluid does.
Maintain your car's fluid pressure.
It makes your transmission system cool when necessary.
Prevents oxidation and rust.
It also prevents system rust.
FAQs
What transmission fluid does a Honda Civic take?
Civic's transmission is an automatic transmission. While you are using this transmission, make sure that you are using Honda ATF, which goes for automatic transmission fluid. You should take care of your transmission fluid and change it every 60000 or 100000 miles.
How many quarts of transmission fluid are in a Honda Civic?
Honda Civic uses 6.3 quarts for a 4-speed auto, 6.2 quarts for a 5-speed auto, and 5.3 quarts for a CVT auto.
Which transmission fluid is best for Honda?
Idemitsu ATF-type H-plus is specifically made for Honda and Acura. ATF Z-1 or DW-1 is specially made for Honda vehicles.
What is Honda CVT fluid?
Honda CVT fluid is a type of transmission fluid that was made for the first generations of variable transmissions. CVT varies gear ratios based on engine speed, vehicle speed, and other driving conditions.